A friend of mine contacted me from the Silicon Valley.
He is working on an old/new way to get answers from the interweb : humans.
We all know Google, Naver Q&A and Yahoo! Q&A. But this is an experience you need to try.
I was busy and not very reactive to his requests to try it. But it's interesting. Just a beginning. But with huge implications.
The App is simply called "Questions – Ask and Answer".
How it works
Ask a question : you record a short video asking something, give it a one work name and wait for answers
Answer a question : choose a title or a thumbnail that catched your attention and record a short video of you answering
For example : I asked "What is the best month to visit California?" and someone answered within 3 hours.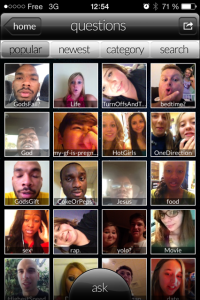 What I like
Easy and very well adapted to a mobile experience. Would not imagined use this on desktop.
Nice to see the face of the people answering your. You can extract more information from facial expression than any textual response.
Fast answers
Lots of questions to answer
Quality of answers may vary but you can ask questions you would not think of trying to fit on Google keywords.
What could be improved
Sometimes you don't want to show your face, that's one of the success of the Internet.
Level of questions and short time to answer makes it hard to see any profound answers or debates
Even for factual questions, it's always faster to type on a search engine
UX and design is not perfect for the moment (dark theme), making the experience more awkward than necessary
Not a lot of users for the moment and no way to filter questions really.
They are just starting. But give it a try and tell me what you think.
There are a lot of interesting User Experience challenges here.